24th EASC roots for Harmonisation of quality standards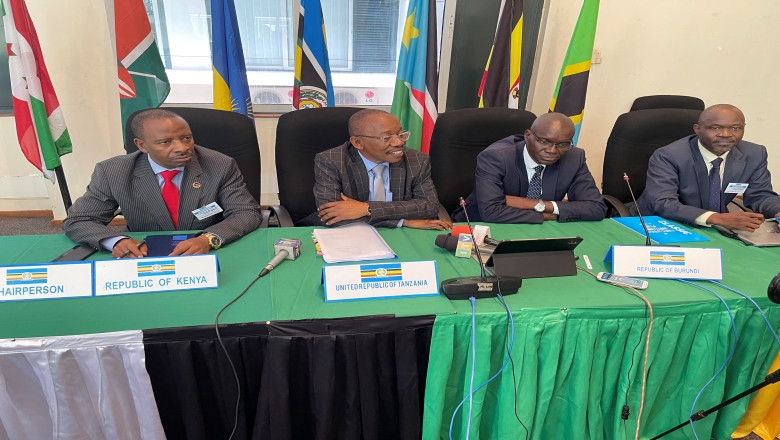 This was an ordinary meeting of the East African Standards Committee (EASC), held in accordance with the EAC calendar of Activities during the period of January to June 2022. The meeting was held from 27th to 29th April and attended by region National Standards Bodies Chief Executives aiming in facilitating trade within the East African Community (EAC) member states.
Tanzania Bureau of Standards (TBS), Zanzibar Bureau of Standards (ZBS) and Weight and Measure Agency (WMA) were in attendance to this meeting representing United Republic of Tanzania on the issues related Standards, Quality Assurance, Metrology and Testing (SQMT) for cross border facilitation in the EAC region.
''Each country might be having its own interests as far as their economy and welfare of its people is concerned, but at one point you need to focus on the region as a whole, said Dr. Ngenya, Director General (TBS).
Dr. Ngenya insisted on the importance of having harmonizing standards in fostering trade across the region and promised to ensure Tanzania through TBS is adopting harmonized standards on time.
''The EAC population is fast growing with the latest entrance of DRC, hence the need of convening such meetings with the view of harmonizing our standards'', He said.
On his part, Ugandan counterpart Mr. David Livingston Ebiru insisted that it was important to harmonize the standards to enable the EAC to have a big market which is guided by standards (safety and quality).
The committee appointed Eng. Yona Afrika Mwampagatwa from Tanzania Bureau of Standards as a chairperson of Standards Management Committee (SMC) and Mr. Jerome Ndahimana from Rwanda Bureau of Standards as Secretary of SMC for the period of three years effective from April 2023. The meeting further recommended Eng. Yona Afrika Mwampagatwa from Tanzania for a position of representing EAC secretariat in the ARSO/SMC.
The East African Standards Committee mandate, as provided in the SQMT Act, 2006, to make follow up of recommendations, decisions and issues which were made during the last Ordinary meetings and provide directions to the technical subcommittees for next financial year of 2022/2023 as directed by the EAC Council on Trade, Industry, Finance and Investment.
The committee considered the progress reports from the EAC established Technical Sub-Committees: Standards Management Committee; Quality Assurance, Metrology, Testing, Codex Forum; and TBT Forum. It also considered the work plan for the 2022/2023 geared to provide conducive environment of cross border trade in the EAC region.
The committee further provided direction on harmonization of East African Standards, Quality Assurance activities, Testing, Technical berries to Trade, metrology and Codex forum issues aimed to facilitate cross border trade in the EAC.
The meeting was well represented by all Partner States in the EAC including Tanzania as an indication of commitment for EAC integration while Standardization, Quality Assurance, Metrology and Testing (SQMT) are instrumental to facilitate trade in the region.
Among the 41 harmonization Technical Committees (TCs), Tanzania will host 13 TCs while Rwanda - 4 TCs, Kenya – 12 TCs, Burundi – 1 TC and Uganda- 11 TCs. Tanzania is highly committed to make sure that all trade barriers related to SQMT issues are removed through negotiations toward the spirit of free movement of goods in the region.