Enhance quality to penetrate wide African market; entrepreneurs told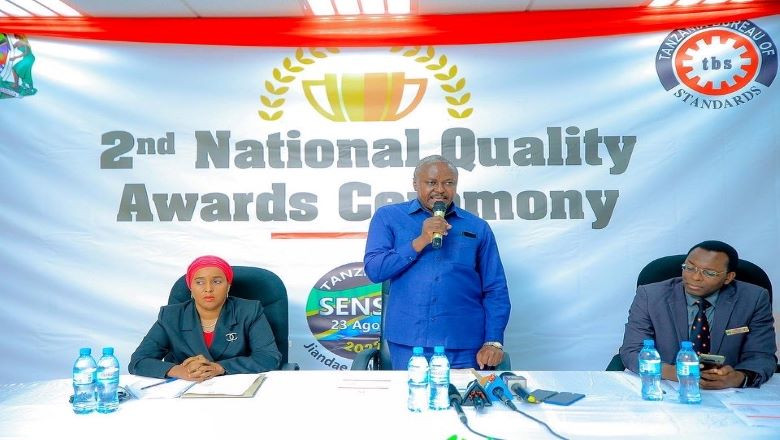 Entrepreneurs have been challenged to enhance the quality of their goods as important criteria in penetrating the wide African markets.
This was said by the Acting Permanent Secretary in the Ministry of Investment, Industry and Trade, Christopher Mramba at the event to award prizes to winners of national quality standards 2021/2022 programme.
"Penetrating a wide African market in this period as countries have started to implement the African Continental Free Trade Area (ACFTA) agreement will be possible and beneficial only if local made goods are of high quality standards," he said.
He added, entrepreneurs should take advantage of the wide African market as African countries have approved Africa Quality Policy.
Mr Mramba said the national quality standards awards were established by the members of the Southern Africa Development Community (SADC) to recognise and promote business sector.
It is from this backdrop that the government through the Ministry of Investment, Industries and Trade established the national quality standards awards that are being coordinated by the Tanzania Bureau of Standards (TBS).
He said the granting of the national quality standards awards is an indication that this year's award 2021/22 season has been closed and started the 2022/23 new season.
The Acting TBS Director General, David Ndibalema called upon producers and service providers that the best way to protect local made goods and services is to increase quality of the products at affordable costs.
Mr Ndibalema said manufacturers and services providers should cultivate the culture of producing quality goods to compete with the imported commodities.
"Manufacturers and services providers need to know the difference between quality and competition. This is the best way to boost business and arrive at the fourth industrial revolution," he added.
He said this is the second season of the national quality standards awards for recognising and congratulate individuals and institutions that have performed outstandingly on quality standards in production.
He said the awards are also aimed at sensitizing innovation and improvement of local made products after meeting the TBS standards.
Ndibalema said the 2021/22 awards have been prepared based in five features namely the best company of the year, the best product of the year, the best service of the year, the best seller of the year and an individual who did better on quality issues.