TBS conducts Training to Spices Stakeholders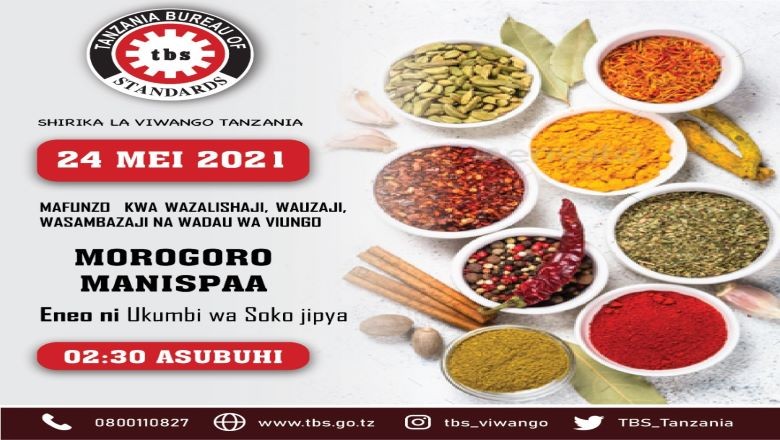 Morogoro based producers, processors and business people in spices are set to boost their earnings after the Tanzania Bureau of Standards (TBS) imparted them with skills to improve quality of their products.
The TBS Manager Training and Research, Hamis Mwanasala said during the training held in Matombo, Morogoro Region yesterday that it aimed at equipping producers, processors and entrepreneurs with skills to enhance productivity.
The beneficiaries of the training were those dealing with spices like cardamom, cinnamon, cloves and others produced in the region.
"The government is emphasising need for producers, processors and entrepreneurs in spaces improve quality and productivity so that their products fetch more revenues from the market," he said.
He said by producing products of high quality that meet required standards may easily penetrate both local, regional and global markets.
"Through the training, participants were given skills on both health and environmental regulations as well as the need to register food and cosmetic premises," he noted.
He said the obligations of registering food and cosmetic premises currently under TBS were under the former Tanzania Food and Drugs Authority (TFDA).
He said reaching and training producers, processors and entrepreneurs in spices is one of the maior obligation of the Bureau aiming at raising the quality of products to meet domestic global standards.
He added that sometimes, stakeholders including entrepreneurs do make requests from TBS to train them on various issues related to quality and standards that would ultimately increase the value of the products and boost their earnings.
"It is our obligations to conduct such trainings to various groups including producers and business people and sometimes we are being invited to partipate in exhibitions like Sabasaba and Nanenane fairs," he said.
He added, at times institutions like Small Industries Development Organisation (SIDO) and Tanzania Trade and Development Authority (TanTrade) to conduct training to entrepreneurs.