"Be Good Ambassadors of Standards"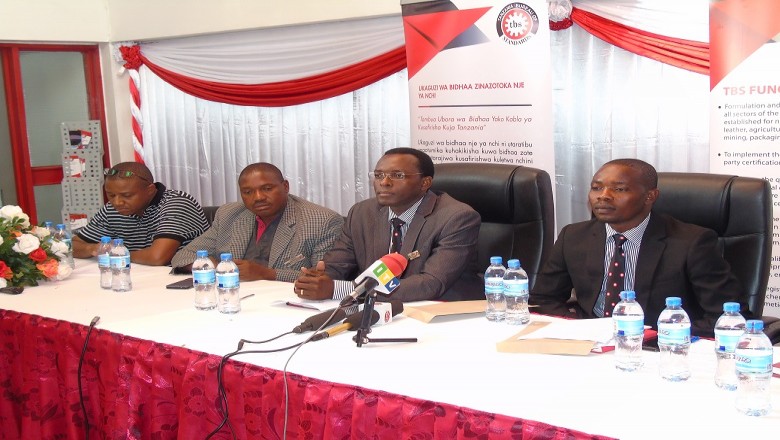 MANUFACTURERS in the country have been urged to be good ambassadors of standards by adhering to requirements of standards during production to enable the country to reach its target on Industrial Economy.
Acting Director General of Tanzania Bureau of Standards (TBS), David Ndibalema made the call today during the grant of licences and certificates ceremony held at the TBS headquarters whereas a total of 167 licenses and certificates were issued including 74 from Medium and Small Entrepreneurs (MSMEs).
Mr. Ndibalema said that for the manufacturers to embark the local and international markets, they have to make sure that they acquire the required licenses and keep in producing quality products as according to the requirements of the respective product's standard.
However, apart from licenses and certificates, the TBS Acting Director General asserted that manufacturers have also to maintain integrity during production process as it was the only way to win the war against the production of substandard products.
"Integrity is very important, do not compromise with the Standards Mark of Quality or licenses which you have been offered today, use them properly as one of your important tools to take your businesses beyond our borders," He insisted.
He noted that it was the Government's desire to empower and uplift MSMEs in the country that is why through the Small Industries Development Organisation (SIDO) an MSMEs can certify their products at TBS for free.
On the other hand, He emphasized that the obligation of supervising the quality of food and cosmetic was officially shifted to TBS, no business person is allowed to conduct food or cosmetic business in the market or premises without TBS approval.
During the period of April to June this year, TBS has already registered about 1812 business premises (food/cosmetic) and 445 food and cosmetic products, he said.
On behalf of other manufacturers, Eng. Aswile Simon from G and Company congratulated TBS on the job well done especially in supporting MSMEs and urged TBS to find better and easier ways to communicate with their clients so as to ensure that the communication reach in time and reduce delays.