SMEs Sensitized on Certification and Registration by TBS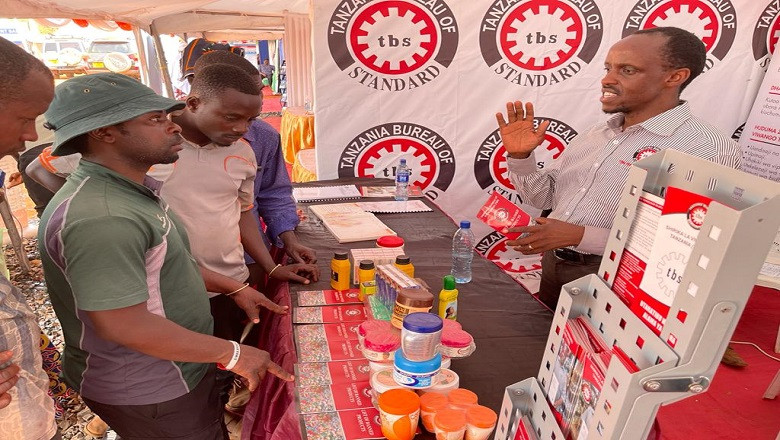 Entrepreneurs from various regions who are taking part in an ongoing national SIDO exhibition in Kigoma region have received awareness education on procedures to certify their goods under the free certification program, registration of business premises and cosmetics.
They got the opportunity from officials of Tanzania Bureau of Standards during the exhibition opened last week by Vice President Dr Philip Mpango, which is held in Kasulu district Kigoma region
TBS officials also provided services in the business clinic booth under Tanzania Trade Development Authority (TANTRADE) , which aimed to serve the entrepreneurs more quickly without wasting time.
Speaking during exhibition, the Acting Head of TBS Western Zone , Rodney Alananga, counseled entrepreneurs to adhere to the production procedures and safety protection in order to avoid losing markets or found with substandard products.
He urged entrepreneurs to contact with Standards Watchdog offices every time in case they need professional assistance.
The TBS Head of Public relations and Marketing, Gladness Kaseka, said the organization provides education and various trainings through dialogue, seminars, campaigns, exhibitions, radio , televisions and social media
"This is the beginning, the organization would make sure that the standards education reaches every stakeholders at the ground level"she said .
Apart from Kasulu, similar campaigns have been conducted in Kakonko, Kibondo districts in Kigoma region and over 70 districts in Tanzania where public education and training were delivered, she said.
According to her, education and training to the public are offered free of charge, where as the government through TBS is financing and the plan is to reach the whole country.
For her part the TBS Marketing Officer, Deborah Haule, insisted entrepreneurs whose products did not get quality mark, to apply for the free opportunity through SIDO, in order to be recognized as SMEs since most of their products fall under compulsory standards, hence are needed to adhere to the standard act.
A citizen identified as Abdallah Shaban, applauded efforts done by TBS to ensure that different stakeholders become aware with standard issues so that they can access local and foreign markets.
However he asked TBS officials to ensure that market surveillance particularly in rural areas is done so as to protect consumers against substandard goods and those expired or not needed in markets.
For their part entrepreneurs requested the government to make easy the availability of packaging which have been a long time challenge.
More than 700 SMEs have attended in this year's exhibition where they got an opportunity to display their products namely maize flour, water, juice, groundnuts, cosmetics, cooking oil, soap, cashewnut, wines, rice, furniture and different machines.