TBS continues to offer support for SMEs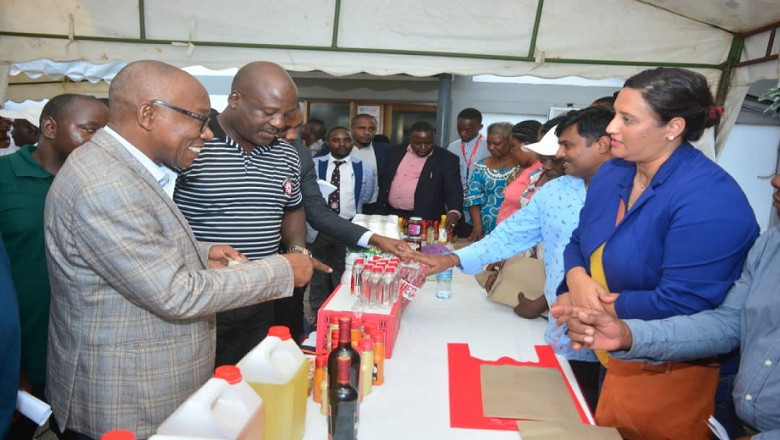 Tanzania Bureau of Standards has reiterated is commitment to provide free certification services for three years for the Small and Medium Entrepreneurs (SMEs) granted standards mark licences under special programmes.
This was said recently by the Director General of Tanzania Bureau of Standards, Dr. Athuman Ngenya during a grant of licence ceremony held at TBS headquarters in Dar es Salaam.
Dr. Ngenya said the decision was taken to support SMEs so that they grow into large scale producers – a move which will contribute to the overall industrialization drive of the country.
"All SMEs issued with standards mark licences today who were introduced to us by the Small Industries Development Organization (SIDO) will receive free certification services for three years," he assured.
He noted that the government had embarked on the programme of assisting SMEs to produce quality goods to enable them to expand markets of their products by easily accessing domestic, regional and foreign markets.
He urged SMEs and other interested parties to make use of the opportunity especially during this time when the government has been insisting on industrial economy.
"TBS as a facilitating institution helps SMEs to certify their goods free of charge. It is better for SMEs to grab the opportunity in order to avoid unnecessary barriers in accessing regional and foreign markets," said Dr Ngenya, adding that certifying goods would also enable SMEs to access EAC and SADC markets.
He also informed manufacturers that the Financial Services Act of 2019 had added more roles to TBS, namely food and cosmetic products registration, which were originally performed by the now defunct Tanzania Food and Drugs Authority (TFDA).
Speaking on the occasion, Mr. Awumsuri Mongi whose company Vision Control & Superintendence Limited was granted with a system certificate, thanked the Bureau for the cooperation accorded to them during the registration process.
"It has taken us a very short period of time to get this certificate, it would increase trust to our clients and enable us to conduct our business with more confidence," he said.
A manufacturer identified as Salem Kaman urged the Bureau to conduct extensive education on its functions. He said many entrepreneurs do not have enough information regarding functions of the certification bodies.
''Most of us feared costs involved in obtaining the standards mark licence, we did not understand it is provided free of charge by TBS. We urge you to continue educating us on your rules,'' he said.
During the ceremony, 96 manufacturers including 27 Small and Medium Entrepreneurs (SMEs) were granted standards mark licences, tested products certificates, system certificates and licence extension.