TBS participates in Viwango Sports Bonanza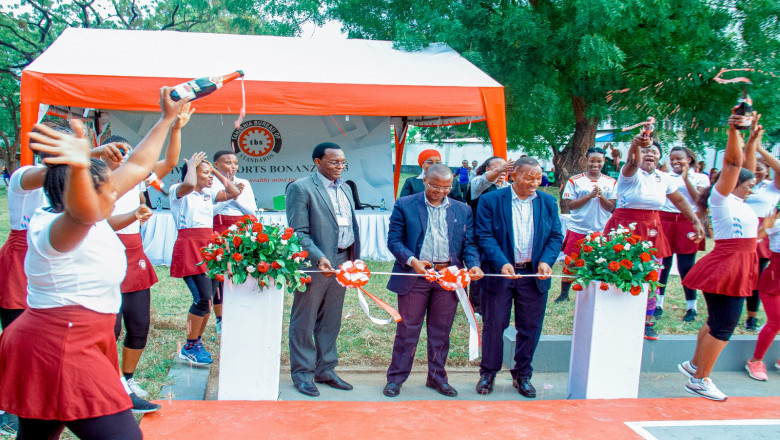 The Tanzania Bureau of Standards (TBS) netball team has launched the 2023 standards sports Bonanza impressively, cruising to a 21-17 win over the Ardhi University (ARU) squad in Dar es salaam on Tuesday.
The one-week bonanza, which brings together six football squads from different Directorates and service providers, will take on each other throughout the week and winners will receive various prizes.
Speaking at the bonanza's launch TBS Director of Quality Management, Lazaro Msasalaga said the Management of the Bureau decided to establish this Bonanza for the aim of building the health of workers and society in general.
"let me take this opportunity to congratulate all of you who are here, including the staff, service providers and invited guests who shared with us today. Your presence here shows how you realize the importance of sports and value your health to ensure that you work effectively to develop the economy and bring about the development of the Nation as a whole" he said.
On her part, TBS's sports secretary, Nyabuchwenza Magongo said they have also launched the TBS netball court which has been built by the institution's management for its women's team to practice.
Nyabuchweza said that the facility is modern and has met all national and international criteria, adding teams from other organizations participating in the bonanza have appreciated the court.
She pointed out: "we are, most of the time, at work, so we have seen that when we get such a time like this to socialize and have through participation in various sports, it improves us physically and mentally."
"I am very grateful to the management for giving us this opportunity," she revealed.
She said the bonanza will involve many discipline including football, netball, volleyball, playing cards, pool table and many more.
One of TBS netballers, Johari Hamza, thanked the institution's management for deciding to set aside this week for the bonanza because despite improving their health, it will boost the spirit and solidarity among them.
She said sports have to a large extent been helping to strengthen the health of employees and increase love and cooperation among them.
"we ask for a bonanza akin to this to be held every year because it has brought all employees together and they are happy to meet in one place for the game", she said.
She asked Tanzania to build a culture of participating in various sports as part of building solidarity and strengthening their bodies because sports are healthy.