TBS, ZBS impress House of Reps committee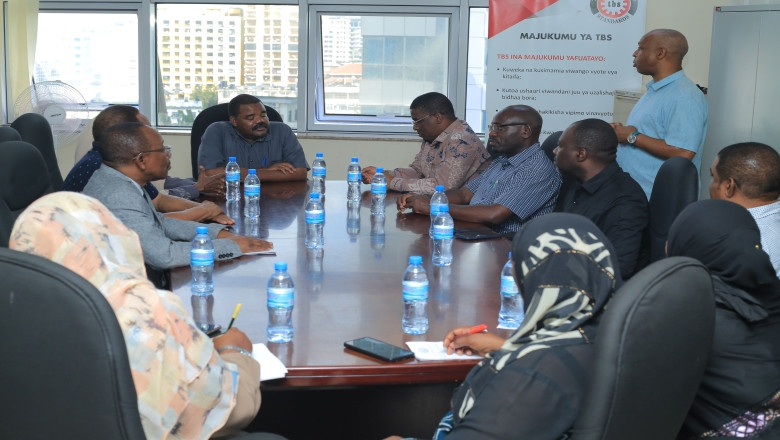 Zanzibar House Committee on Agriculture, Trade and Tourism has expressed satisfaction by the existing collaboration between Tanzania Bureau of Standards (TBS) and Zanzibar Bureau of Standards and advised to continue it because its fruits are being discerned for the wide interests of both sides of the Union.
The remarks were made in Dar es Salaam by the Committee's Chairman, Yusuf Hassan Iddi (MP) during its visit TBS offices to learn about the Bureau's activities. Others in the panel's delegation led by the Zanzibar Minister for Trade and Industrial Development, Omary Said Shaaban (MP) included ZBS Director and ZBS Board members.
"In truth, we have leant a lot and we thank TBS for assisting ZBS officials who are now performing well that it was in the past," said Yusuf and called for the continuation of the cooperation.
He said during the visit, they visit TBS offices at the Port of Dar es Salaam to see procedures for the inspection of imported goods in the Pre-Shipment Verification of Conformity (PVoC) and that of DI.
"We also learnt a lot of things at the TBS TPA office and how they merge their systems for thorough goods inspection and clearance thereof," added Yusuf.
He said they also visited TBS head offices where they were briefed how the Bureau operates.
He also commended Zanzibar President Dr.Hussein Ali Mwinyi for improving ZBS services whereby over 8bn/- has been invested in the Bureau for the laboratories unit in order to make sure goods produced locally are examined to ensure the needed quality standards.

For his part, Tanzania Deputy Minister for Investment, Industry and Trade, Exaud Kigahe (MP) said from the visit the visitors have been able to learn about TBS various activities and saw for themselves various laboratories used to examine various goods.

"We as the ministry are happy for our Zanzibar brothers coming here to learn about TBS activities but more important is to boost the relationship between the two parts of the Union," Kigahe said.

He explained that the cooperation will build a foundation in making sure they improve the quality of their products in order to compete in both the EAC and SADC markets.

"Now we have ratified the East African Free Trade Zone protocol and we now can compete in the entire African continent, as now we can introduce all goods made in the country as Tanzanian goods, and not Zanzibar or Mainland goods" he said.

For his part the Zanzibar Minister for Trade and Industrial Development, Omary Said Shaaban said the aim of their visit is to learn, increase our understanding and exchange experience between ZBS and TBS.